Dr. Monika Vykoukal

Generali Foundation, Vienna
An oil painting of the Stephandoms, a view of the Karlskirche, nudes, sceneries. The enumeration awakes an delusive impression of a concern for a subjects matter of an artist from the 19th century. The painting of Milan Markovich nevertheless, turns out as a thought-out, concentrated discourse with the tradition in painting.
Going from a formally strict education, trained in the sculptural, shematic and constructing proportional rules of the nineteenth century, the construction becommes the essential scaffolding of an discourse with the dialectic of structure and gesture. Construction lines pull through the light painting, come to the foreground,oscillate, then free themselves in the abstract. Sculptural forms in the contrast to a monochrome, uniformly two-dimensional bacround.
Emphasised points of light become independent to expand, to attain spatial magnitude. A contrasted play of plasticity and transparency, fragmentary and permeable, but also of solid space-conquering forms. The stereotype as an occasion for an always present, concentrated, questioning discourse with perception and representation. Seeing, explaining – always as a sensation, as an expression of an internal world by external objects, fragment-like, joined together, then reconstructed and examined. This opening of forms as an emotion, liberating, struggle around expression by work ing with timeless rules of this game, is positioned as a sollid starting point, but also as a tension-space for a liberating solution. These fractures bring a fragility into the images, a liberation, which at the same time creates an uncertainty, mids in a space of classical securities of the methodology and the motives. The specific and the unique , the "Künstlichkeit" (artifice) of the representation, as well as the struggle of seeing and manifesting, become so clearly.
Figures, buildings, sceneries, become in a simoultanius process formed and broken. Transparent and fragile, subtle... with selective distortions in movement. The formal here is always consciously a method, means to the discourse, with tensions, most of all, from nature to artifice. The silent, superficial classical harmony, becomes consciously delusive.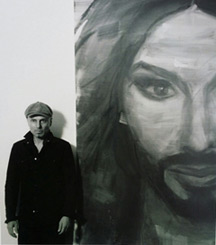 Milan Markovich
Dr. Wilfried Seipel
Former general director of the Kunsthistorisches Museum, Vienna
Introduction for the catalogue of the exhibition in Palais Harrach
Due to his explicit concentration on his own creative work, Milan Markovich is one of the artists who have become increasingly present in the Austrian and international art scene. No longer a marginal figure in the scene that is undergoing an increasingly meteoric development at present, he is ranking among the indispensable stock and even the substance of artistic production in Austria's art scene today. Partly free from contemporary works and developments Markovich is holding a special position in painting today. He seems to feel bound to painting in a style characterized by depth and plasticity especially in representing the sculpture, plasticity and anatomy of the human body in its three-dimensional structure.
Born in Vojevodina, the artist grew up in Vienna and completed a one-year education at the university of Applied Art under professor Oberhuber. He continued his studies at the traditional New York Art Students League where, under the guidance of Robert Beverly Hale, a previous curator of the Metropolitan Museum, he discovered and refined his special talent and predilection for representing three-dimensional structures at the two-dimensional level.
The human body and its deformations, seen from different perspectives, seem to be a center of interest in his work, which in their pastose surface sometimes seem to be suggestive of Francis Bacon. His condensed reproduction of torso-like human bodies, often in dynamic motion, is characterized by the contrast between rest and motion, spiritualization and insistent plasticity.
Sometimes Milan Markovich's paintings give the impression of being created by an artist who is a sculptor at the bottom of his heart, attempting to turn the three-dimensional language of sculpture into a two-dimensional level characterized by spatial depth, dynamic development and plasticity. A sculptor who achieves his effect at the two-dimensional level but create his own spatial reality in his language of forms. He is an artist whose development potential leaves much open, and for whose future works we are waiting with keen interest.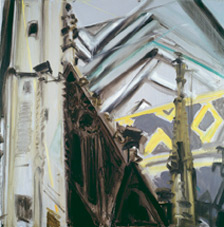 Stephansdom
, oil on canvas, 180x160 cm
Alexander Wied
Curator of the picture gallery, Kunsthistorisches Museum, Vienna.
From the start, the pendulum in the plurality of styles of the twentieth century has oscillated between non-figurative art – where figurative painting and sculpture were frowned upon – and figurative art. It is not since Duchamp that the function of painting was questioned, but already much earlier, with the invention of photography. That painting was declared dead and written-off as an art form time and again only to be resurrected just as rapidly are part of the constant undulations that characterize the contemporary history of art.
A new "hunger for pictures" arose in the aftermath of the picture-hostile Seventies, and variations of representational art everywhere enjoyed a boom during the 1980s. In Italy, Germany and Austria a younger generation of painters appeared, now between 50 and 60 years old, who were dubbed in Austria the "Junge Wilde" or "Young Savages", taking up the old "Oberwildling" Kokoschka. This art represents but a small segment within the diversity of postmodern art. The somewhat younger Milan Markovich (born in 1959) was confronted with this phase. A year of studies under Oswald Oberhuber in Vienna left hardly any traces in his work, but founded a personal relationship, evident in the remarkable portrait of his tutor. The seriousness of Markovich's artisticial ambition reveals his holistic interdisciplinary education at the New York Art Students League and the National Academy in New York, where he attended from 1981-86.
The advantage of representational art is that it requires less descriptive interpretation than abstract art. Markovich's work thus explains itself to the observer. His work is devoted to the human character, the nude and the portrait, as well as to architecture, less to landscape. A sculptural feeling and a powerful tendency towards plasticity attract attention to itself in his figures, especially in his nudes, while his portraits reveal his extraordinary accuracy. Francis Bacon, Lucian Freud and Oskar Kokoschka are deemed his ancestors in this respect. Unlike Bacon, Markovich reduces deformation as well as the relation between figure and space: the position of the figure in space is often only hinted at; rather it seems to stand, to float or to rest, restricted unto itself in front of a non-defined grey background.
Markovich moderates Freud's merciless realism in portrait without loosing track of the psychological essence of the person. In contrast to the highly plastic, colourful values of the Eighties, a tendency to monochrome can be observed; highlights give the flesh of his nudes an iridescent, nearly glassy smoothness. His painting dexterity is built upon the foundation of a formal training in drawing. The nudes - whether male or female, fat or ordinary - are not chosen for voguish beauty ideals, rather, the artist is interested in the creatural, which he conveys to the observer through an unbiased three-dimensional experience.
With all the impetuosity of the brush-script Markovich is a traditionalist in terms of art taking up art time and again. And he does so without the irony of postmodernism. Markovich takes tradition seriously; he admires and knows the old masters intimately, and reflects from works of art history, such as J.H. Füßli, Degas, van Gogh, Klimt, and others. In his recent works the artist - who is also an excellent draughtsman, as his large-scale drawings show - tries to break open the solid plastic form in favour of whipping, rhythmic, intertwining lines. His forcefully gripping sense for the essential is revealed in his paintings of outstanding Viennese architectural monuments like Karlskirche, Stephansdom, Palmenhaus, Votivkirche, and Hermesvilla. AND Markovich succeeds in capturing the distinctiveness of these monuments. Painting, therefore, is not obsolete. It updates itself time and time again. It is the mimetic impulse, the stimulus to develop something new, that was not there before by means of colour, brush, and canvas. And it is these rudimentary aspects of art that belong to the same archetypical motivations that destines the artist to create and to mould a testimonial definition.
Milan Markovich, a powerful talent, impressively demonstrates in this, his first major museum exhibition, how pleasurable the "adventure" working with canvas and paper can be.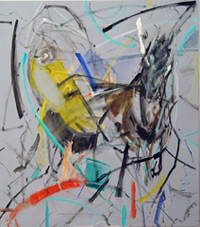 Der guter Samariter, oil on canvas, 180x160 cm